Excellence.
Customized Solutions.
High -Touch Service.
For over 25 years, we've been distilling big-firm expertise and recreating it in a discreet, boutique firm setting.
Trust and Estate Legal Services
We established our firm over 25 years ago to focus 100% on trust and estate legal work
We provide domestic, cross-border and multijurisdictional trust and estate advice in a comfortable, discreet and personal boutique firm setting. From planning to administration to dispute resolution, our years of practical experience, combined with a deep understanding of your unique goals and objectives, enable us to provide bespoke solutions in a responsive manner that optimize your situation and ensure your peace of mind.
Celebrating Our 25th Anniversary
2023 marks the year O'Sullivan Estate Lawyers LLP celebrates its 25th anniversary. We thank our clients, professional colleagues, and "Friends of the Firm" for all of their support in contributing to this achievement and for the trust you place in us.
Recognized Leaders in the Field
Our lawyers are not only legal practitioners but also leaders in our profession
All of us are active speakers and thought leaders. We are committed to staying at the forefront of the law and leading the charge.
We are also a top-ranked, peer-recognized firm. Margaret O'Sullivan and Susannah Roth are both recognized by Chambers Canada High Net Worth Guide 2022 as top estate planning lawyers in Canada.
Margaret and Susannah Roth are both recognized by The Best Lawyers in Canada 2022 and the Canadian Legal Lexpert Directory 2022 as leading estate planning lawyers.
Margaret is recognized in Private Client Global Elite 2022-2023.
O'Sullivan Estate Lawyers was awarded Boutique Firm of the Year 2019/20 at the STEP Private Client Awards held in
London U.K. on September 25, 2019.
The Toronto estate lawyers at O'Sullivan Estate Lawyers are sought by reporters, editors, as well as TV and radio producers for their opinions and analysis of important estate issues, cross-border estate issues, trust and trust administration, as well as estate litigation.
"The O'Sullivan team has deep domestic, international and cross-border expertise, and their depth of trust and estate planning knowledge is close to unparalleled. I feel comfortable referring my clients because the nature of their advice is top-drawer. They are true experts."
O'Sullivan Estate Lawyers LLP is pleased to be a Gold Sponsor of the 2023 Annual Conference of the Society of Trust and Estate Practitioners (STEP) Canada. This year's conference is being held on June 19 and 20, at the Sheraton Centre Hotel Toronto, 123 Queen Street West.
Importantly, this year also marks STEP Canada's 25th anniversary. Time flies when you're doing great work, educating trust and estate practitioners, informing the public and government, and being a visionary leader.
Congratulations on your 25th anniversary, STEP Canada!
Day 1 Program – Monday, June 19
Margaret O'Sullivan will attend the Private Client Exchange hosted by Legal Week in Vence, France.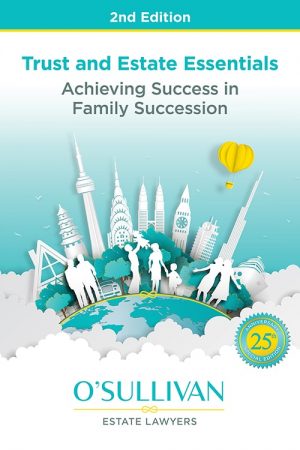 Read our 25th anniversary special edition book "Trust and Estate Essentials: Achieving Success in Family Succession," 2nd Edition. It will help clarify and demystify major issues that arise in estate planning and estate administration, especially high net worth Canadians with cross-border and multijurisdictional connections.
The Second Edition has been updated to 350 pages and divided into 40 germane chapters.
Available in hardcopy and eBook. Bulk orders welcome.
This is definitely dating myself, but in thinking about this blog I was unable to get Jon Bon Jovi's "It's My Life" out of my
Read More »
A person can only have one original will. In order for a will to be probated in Ontario, the original will must be filed with
Read More »
This blog comes to you today, May 4, 2023, on the 25th anniversary of the establishment of our firm. I thought I would share some
Read More »
Clients like to say that they don't have any personal effects of value. While they likely mean monetary value, they are overlooking the sentimental value
Read More »
Contact Us to Discuss Your Needs
Our lawyers are ready to meet with you, listen to your needs and explain how we can help. Contact us to set up a meeting