Navigating The Cross-Border Highway: A Roadmap For Canada-U.S. Estate Planning And Administration
There is increasing connectivity and movement of individuals and their assets between Canada and the U.S.: children relocate on either side of the border, often after pursuing higher education in the other country, U.S. residents move to Canada to work or retire and vice versa, or residents on either side of the border purchase a recreational property – a Florida or Arizona home for many Canadians, or a cottage property or ski chalet in a Canadian province for many Americans.
Navigating the issues that arise in cross-border estate planning and administration is complicated given the very different tax and legal regimes on either side of the border. Missed turns or taking the wrong route often occurs because of a lack of skilled guidance and direction in planning or administering an estate with cross-border issues.
View this global webinar recording is presented by O'Sullivan Estate Lawyers LLP via Mondaq™ will enable you to stay on top, be able to spot the issues and understand the complicated cross-border challenges that arise when Canadians and Americans have connections to each other's jurisdiction, including assets, citizenship, residency and beneficiaries.
Topics include:
Using separate situs wills and powers of attorney for property and personal care.
Administering property on death on other side of the border.
Taxation on death and the impact of two different tax regimens: Canadian capital gains tax and U.S. estate tax and planning options to reduce tax exposure.
Choosing executors, trustees and attorneys for powers of attorney: what are the tax and legal considerations which create problems in appointing a resident on the other side of the border?
Tricky legal and tax issues when a trust or its settlor, contributor, trustees or beneficiaries are resident in the other jurisdiction.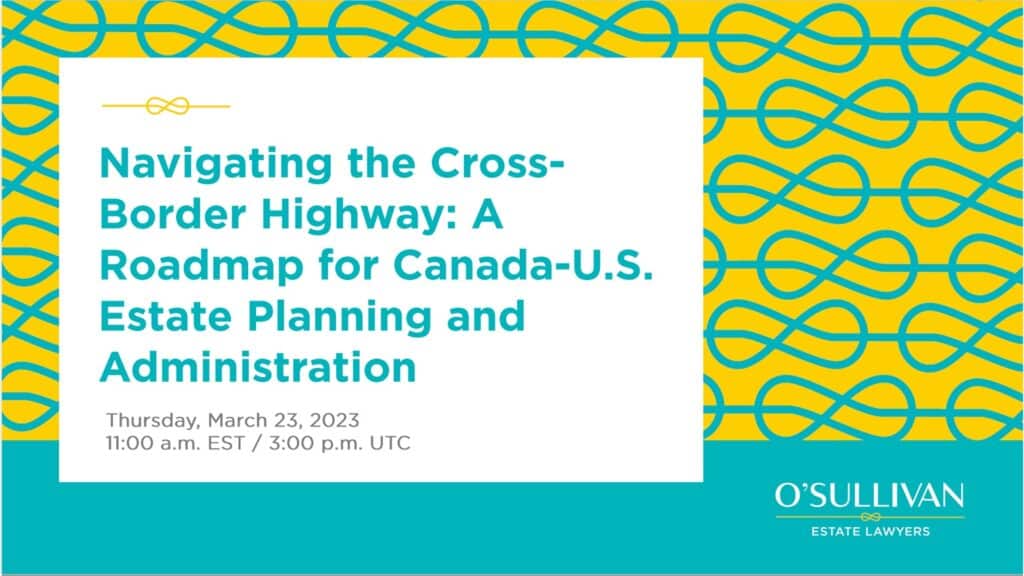 When: Thursday, March 23, 2023
Complex, High Value Estate and Trust Administration: Perils and Pitfalls
The administration of estates and trusts involves many legal and financial issues.
Complexity increases with high value estates and trusts that have unique assets: business holdings, significant investment portfolios, private equity interests, international real estate, valuable art and collectibles. It can be confusing and overwhelming!
Whether you are the testator, a beneficiary, an executor, a trustee or a trust officer, O'Sullivan Estate Lawyers LLP has extensive experience in high value and complex estate administration, trust administration and fiduciary accounting.
Join us for a discussion that will provide trust officers and advisors as well as their clients with a framework for important decisions. This event is being hosted by Estate Research in London, UK, and features O'Sullivan Estate Lawyers LLP.
Topics include:
Gathering in foreign assets
Liability and income tax matters
Private corporation interests in an estate or trust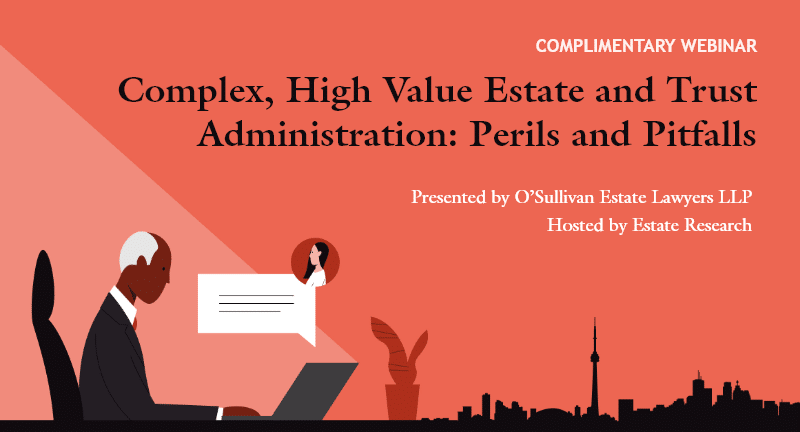 When: Wednesday, May 19, 2021
Would you like to know more about how to use separate situs wills and powers of attorney or their equivalent, including some of their problems and pitfalls?
Join this complimentary webinar from O'Sullivan Estate Lawyers, recognized as a leading trusts and estates legal boutique including winner of the STEP Private Client Award for Boutique of the Year 2019/20.
Learn how to address the special issues and intricacies of planning and preparing multijurisdictional wills and powers of attorney.
This webinar will explore:
Why use a separate situs will or power of attorney
Which law governs, including choice of law where applicable and how the European Succession Regulation may apply
Dealing with tax, liabilities and liquidity on death in using multiple wills
Forced heirship issues
Problems and pitfalls, including accidental revocation
When: Wednesday, January 20, 2021 at 10:00 am EST
O'Sullivan Estate Lawyers hosted a webinar on the topic "It's complicated: Solutions for planning and administering an estate with foreign connections" on September 23, 2020. View the webinar recording. Download the Powerpoint Slide Deck.
O'Sullivan Estate Lawyers hosted a webinar on the topic Protecting a Child's Inheritance on October 24, 2019. View the webinar and presentation slides
STEP PCA 2019: Boutique Firm of the Year
Congratulations to Margaret O'Sullivan, the recipient of the 2013 Ontario Bar Association Award of Excellence in Trusts and Estates Law
Family Dynamics: Top Ten Wills, Trusts and Estates
Common Law: Matrimonial Regime